Arbour Lake Houses for Sale In Calgary
If it's your dream to live around a lake, then Arbour Lake houses for sale in Calgary are likely precisely what you're looking for! Arbour Lake is located in the Norwest quadrant of Calgary and offers a unique and beautiful lifestyle. For instance, in the summer, you can enjoy all the wonders of lake living, and in the winter, enjoy the bliss of a veritable winter wonderland!
Arbour Lake is a growing community that has it all. The stunning views of the Rocky Mountains from the city are spectacular. In addition, getting the family together for a quick ski trip to Banff is easy and convenient, a dream for Canadians all over. Likewise, C Train stations of Crowfoot and Tuscany are both conveniently close to the Arbour Lake community.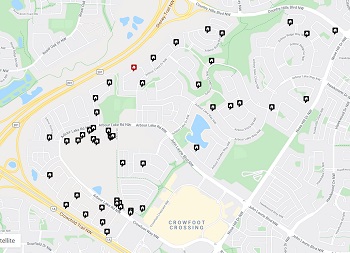 Amenities of Arbour Lake houses for sale in Calgary
With Arbour Lake homes for sale in Calgary, you get access to a fantastic range of facilities. For example, residents of this exceptional community can enjoy one of the largest outdoor malls in all of Calgary. Crowfoot Crossing offers over 240 services and shops. You can choose from many different entertainment options like movie theatres, bookstores, restaurants, and significant boutiques and retailers.
It's also easy to access downtown Calgary by the LRT station in Crowfoot.
Find the Lifestyle That Suits You Perfectly
You will build very fond memories in Arbour Lake, because of the unique and beautiful location. The community also has a great sense of oneness in building and developing a beautiful place to call home.
Outdoorsy types will revel in all of the swimming, fishing, and boating excursions to take. You will love being able to provide skating and other sports and activities for your children. The Crowfoot Library is a sight to see, with spectacular mountain views - what a perfect place to spend an afternoon reading.
Green spaces are a priority in this community. As a result, you will find many natural ravines, parks, walking pathways, and more. Furthermore, being active and fit is easy in Arbour Lake, with the local YMCA offering amazing fitness facilities, swimming pool, track, and more!
Arbour Lake
December 11, 2023
NW Calgary Popular Communities
Arbour Lake Hills Community Schools
Families looking for Arbour Lake homes for sale in Calgary will be please with the high quality schools available.
For kindergarten to junior high school age, your children can attend St. Ambrose School. St Ambrose provides a catholic learning environment.
Middle school ages can attend Arbour Lake School, a large institution that accommodates over 800 students. Students can explore fine arts or technology at this fine school.
Robert Thirsk High School for grades 10 to 12 was newly built in 2013. You will find a world-class performing arts program here.
Arbour Lake Hills REALTORS®
Is it time to buy or sell in Arbour Lake? Our local experienced REALTORS® are here to help you through the home buying or selling process. Professional and skilled we can help you negotiate favorable terms. Our REALTORs® are familiar with Arbour Lake.
Contact McDonald & Partners to learn for FREE about how we can help you as a seller or buyer. Thinking of selling your Arbour Lake home? Find out for FREE in a matter of minutes What's Your Home Worth
Quick Calgary MLS® Search