Bowness Houses for Sale in Calgary
Famous for its rich History, Bowness is a community that brings you back in time making your everyday life here so enriching. With a lot of Amenities to offer, Bowness is a perfect community of all ages and walks of life. Bowness Community is located between Stoney Trail to the west and Bow River to to its east. Scroll down to check out for more interesting details about this perfect community.
Check out our listings and be part of this enriching community!
Bowness Houses for Sale
September 28, 2023
NW Calgary Popular Communities
Amenities of Bowness Houses For Sale in Calgary
PARKS
You will enjoy staying in this community if you are a Nature Lover. With its very own Bowness Park, whether you are running or having a family get together, this community is perfect for you. Bowness Park is famous for the activities it offers. You can enjoy its lagoon with a paddleboat during the summer and outdoor skating in the winter. Rentals for boat and skate are available. Children can be amazed by the Train Ride within the park. Since it was created before the First World War, you will be amazed by the historic spots you'll see as you walk within the roads of Bowness Park. And the fun does not stop here. You can enjoy other activities and amenities such as Curling rink, Ice Shinny rink, Ice Bikes, Fire Pit and Barbeque Stands, Picnic Sites, Tea House, Play Ground for Kids and many more!
Other nearby Parks are also a minute or short drive from the community such as Bakers Park, Bowmont Park and Shouldice Athletic Park. Visit the community and witness Nature itself.
ARENA
Bowness Community has its own Hockey Arena. With its NHL size ice surface, your family will love watching some games within the community. Your kid might be a hockey player so practicing with his teammates in the arena will definitely put him in his game. The arena has daily ice times are between 6:00 am and 1:00 and has 6 dressing rooms to accommodate number of teams. The Bowness Community Centre facilitates the rental of the arena.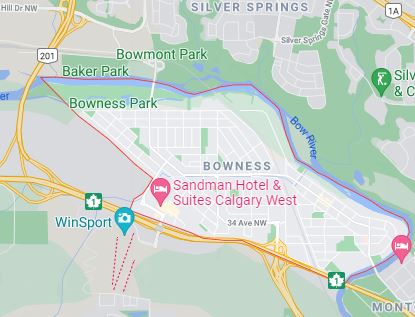 CAFE AND SHOPS
This community has its own grocery stores and cafes. The 'Bownesian Grocer' is a perfect place to do your groceries and eat fresh local food. You can also found 'The Light Cellar'grocery store that offers natural food like raw chocolates, different kind of spices and other locally foraged foods. The community also offers a lot of local Cafes which you can enjoy everyday and meet some friendly neighbors and have a nice afternoon chat!
Bowness Community Schools
Bowness REALTORS®
Is it time to buy or sell in Bowness? Our local experienced REALTORS® are here to help you through the home buying or selling process. Professional and skilled we can help you negotiate favorable terms. Our REALTORs® are familiar with Bowness.
Contact McDonald & Partners to learn for FREE about how we can help you as a seller or buyer. Thinking of selling your Bowness home? Find out for FREE in a matter of minutes What's Your Home Worth.
Quick Calgary MLS® Search