Brentwood Homes For Sale In Calgary
Check out our Brentwood homes for sale in Calgary. If you require more information about the listings in Brentwood click on "Request More Information" button located on the small print of the property description. Looking for past sales info, community sales, or anymore specific info, contact us. If you have not already register for email alerts when new Brentwood homes for sale in Calgary listings come on the market.
Located in NW Calgary Brentwood is between Crowchild Trail NW, and John Laurie BLvd, and between Charleswood DR NW, and Shaganappi Trail NW. The LRT Brentwood Station, and lots of shopping is available at Northland DR.
Brentwood has plenty of public schools located in the community, Captian John Palliser K-4, DR EW Coffin K-6, Simon Fraser, and Sir Winson Churchill high school. The designated catholic schools are Mother Mary Greene for elementary, St Jean Brebeuf for junior high, and St Francis high school.
Brentwood Homes For Sale In Calgary
September 28, 2023
NW Calgary Popular Communities
Being crowned as Calgary's best neighborhood 2 years in a row, Brentwood is a perfect community for every family. Brentwood boasts its strong community spirit, wide access to park, transportation and shopping malls. Let's check why Brentwood community tops the list in all Calgary.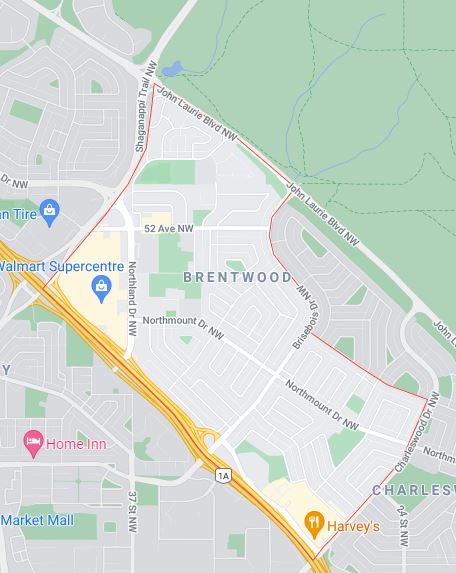 Amenities of Brentwood Houses for Sale in Calgary
PARKS
Access to Parks within the community of Brentwood is always possible. In the northwest side, you can go to Brenner Park. In central north side, you can have a nature experience with Conrad Park. In the southeast side, you can take your kids to Blakiston Park and enjoy the free playing amenities for every kids. Or you may want to practice for your marathon, just go a little further north and walk fast John Laurie Blvd and there you will find the biggest Park in Calgary, The Nose Hill Park. Enjoy Nature in Brentwood community!
SHOPPING MALLS
Do you want a community with a wide access to shopping? I bet you do not want to leave your community just to buy some stuff, am I right? Good news for you! Brentwood Community has a wide access to shopping areas with not just one, but TWO shopping centre. In the west side you'll find the Northland Village which houses dozens of retail stores, boutique, supermarkets and different services. In the east side, you can park at Beddington Village Shopping Centre and fill your shopping cart with all your needs and wants!
WIDE ACCESS TO TRANSPORTATION.
Convenience is the one famous word when you are living in the neighborhood of Brentwood. With a lot of access to the things you need everyday, life in Brentwood offers a lot of comfort to all people regardless of your age and social status.
Public Transportation in Brentwood is abundant. With its very own LRT Station, the Brentwood Station, going in all spots of Calgary is always available and easy. Brentwood community has seven bus lines running through the major and minor roads in the neighborhood. Whether you are a student, employee or running errands, you can be sure you meet your schedule on time with a lot of certainty!
Brentwood Hills Community Schools
Brentwood Hills REALTORS®
Is it time to buy or sell in Brentwood? Our local experienced REALTORS® are here to help you through the home buying or selling process. Professional and skilled we can help you negotiate favorable terms. Our REALTORs® are familiar with Brentwood.
Contact McDonald & Partners to learn for FREE about how we can help you as a seller or buyer. Thinking of selling your Brentwood Hills home? Find out for FREE in a matter of minutes What's Your Home Worth
Quick Calgary MLS® Search