Citadel Houses for Sale In Calgary
Discover your dream family home in our listings of Citadel houses for sale in Calgary! The gorgeous neighbourhood of Citadel is home to many comfortable detached houses and luxury homes. As such, the splendid community is attracting many new residents. This is due in part to the excellent location and perfect planning of the area.
The improvements to this wonderful neighbourhood continue, with plans for Stoney Trail to go through the community. As a result, making access to downtown Calgary even easier. The neighbourhood is located in the northwest quadrant of Calgary. Therefore, it is bordered by Stoney Trail to the north and the west. Country Hills Boulevard takes up the south and to the east, the Sarcee Trail.

Residents of Citadel enjoy an established community-oriented neighbourhood full of parks, playgrounds, walking pathways, and recreational spaces. In addition, many Citadel homes for sale in Calgary boast unbelievable views of the Rockies and ravines. Moreover, the C Train from Crowfoot station is ideally located to get around the city.
Citadel is in the perfect location to enjoy breathtaking views of the Rocky Mountains. Therefore, families looking for executive homes with natural charm in this idyllic community are in luck. Browse the listings below and see for yourself what amazing homes are available.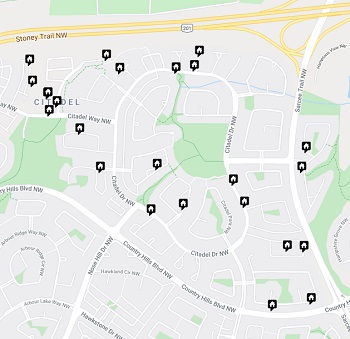 Citadel Houses for Sale in Calgary – Demographics and More
The 2012 City of Calgary municipal census stated that Citadel has a population of 10,197 residents.
Residents of this community have a median household income of $80,085.
This is a diverse community of English, Mandarin, Arabic, French, Russian, and Persian immigrants in Citadel.
Education
Families with school-aged children have choices from both the Catholic school system and the public system. Children from kindergarten to grade four can attend either Citadel Park Elementary School (Public) or St. Brigid Catholic School (Catholic).
After Elementary, middle school, they can then move on to Arbour Lake School for grade five to grade nine.
At YYC Homes, we commit to providing our users with as much information as possible about our listings. Our job is to guide you through the stressful task of finding your next home. And we hope to get you situated in your ideal home as soon as possible.
NW Calgary Popular Communities
Citadel Community Schools
Citadel REALTORS®
Is it time to buy or sell in Citadel? Our local experienced REALTORS® are here to help you through the home buying or selling process. Professional and skilled we can help you negotiate favorable terms. Our REALTORs® are familiar with Citadel.
Contact McDonald & Partners to learn for FREE about how we can help you as a seller or buyer. Thinking of selling your Citadel home? Find out for FREE in a matter of minutes What's Your Home Worth
Quick Calgary MLS® Search