Edgemont Houses for Sale In Calgary
Below you will find the latest listings for Edgemont houses for sale in Calgary. Edgemont has a relatively large population at over 15,000, as well as a large area. Therefore, making it one of the largest markets for home sales throughout Calgary.
Edgemont is a suburban area in Northwest Calgary, which boasts stunning views that will take your breath away. Imagine your new home, nestled neatly in a city surrounded by mountains!
At YYC Homes, we are dedicated to helping you find your ideal family home. Whether it is in Edgemont or another growing neighbourhood in Calgary, we're here to help you make the right choices.
Edgemont Houses for Sale in Calgary – Ideal for Families!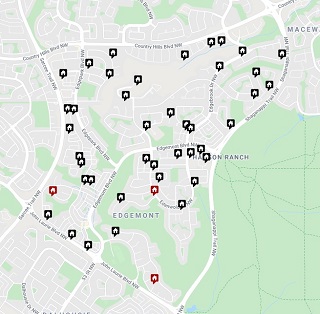 The neighbourhood of Edgemont is perfect for families because it offers many recreational facilities, spots areas, playgrounds, and more. The C Train is available to make getting around easy for all Edgemont residents. In addition, the Sarcee Trail on the West and the Shaganappi Trail on the East makes Edgemont a paradise for hikers, campers, and other nature lovers.
The elevated neighbourhood of Edgemont allows beautiful south views of the city. Moreover, some properties provide breathtaking views of the Rocky Mountains in the west as well.
Although Edgemont homes for sale in Calgary will have a major appeal for families, the neighbourhood has much to offer everyone.
Edgemont is a growing neighbourhood that is projected to gain an increase in residents due to new developments. The largest community in Calgary is attracting many affluent new residents. Which comes as no surprise, with it's stunning pathways and ravines in addition to the many communal areas like playgrounds and tennis courts and other amenities.
Edgemont residents have facilitated the opening of many gyms, community centres, and banquet halls as well.
The Economy
Statistically, residents of Edgemont have a fairly high average household income. And there is a very low percentage of low-income residents. The sub-areas of Edgemont are Edgebrook, Edgeridge, Edgevalley, Edgepark, Edgedale, Edenwold, and Edgemont Estates, which is its oldest subdivision.
NW Calgary Popular Communities
Edgemont Community Schools
Edgemont REALTORS®
Is it time to buy or sell in Edgemont? Our local experienced REALTORS® are here to help you through the home buying or selling process. Professional and skilled we can help you negotiate favorable terms. Our REALTORs® are familiar with Edgemont.
Contact McDonald & Partners to learn for FREE about how we can help you as a seller or buyer. Thinking of selling your Edgemont home? Find out for FREE in a matter of minutes What's Your Home Worth
Quick Calgary MLS® Search